Menu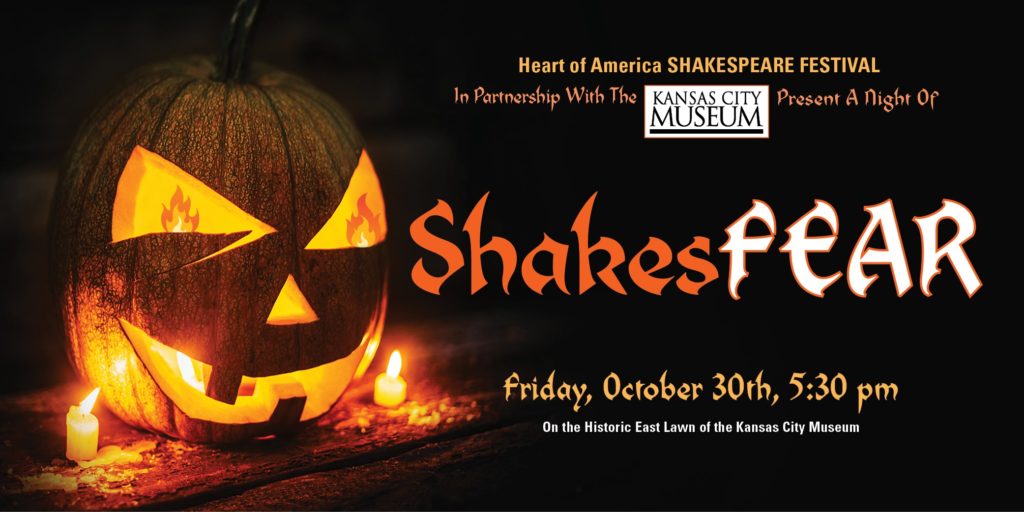 ***SOLD OUT***
Friday, October 30
Front South Gates open at 5:00 p.m
Showtime 5:30 p.m. on the historic east lawn of the Kansas City Museum
Come find HASF's ambassador GOOD WILL passing out treats at the gate, no tricks! During this family friendly event, you'll meet some of Shakespeare's spookiest characters including witches, ghosts and despotic Kings! Featuring HASF alum actors Kendra Keller, Ellen Kirk, Jerry Mañan, Petey McGee and Meredith Wolfe, as well as Team Shakespeare youth actors playing multiple roles in scenes from some of Shakespeare's most frightening plays. HASF Director of Education, Matt Rapport will provide live music and dazzling fire skills!
Seating is reserved by pre-determined squares — each seating square is reserved for up to 4 people.
Attending this live, socially distanced performance requires that all audience members must register and pay online in advance as seating is limited.
Each person must wear a mask to enter and exit the gate. Once settled and seated masks may be removed.
Attendees are encouraged to bring their own picnic, blanket and/or chairs. None will be provided.
There will be hand sanitizer at the gate.
Free parking is available on the street around the museum property.
This event is family friendly.